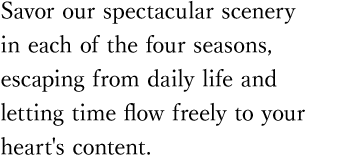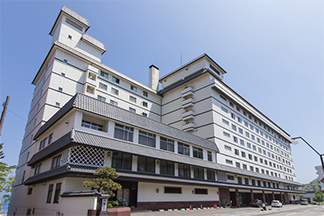 Floor Information
| | |
| --- | --- |
| 9F | Guest Rooms, Large Aerial View Baths "Hana" & "Kaze" |
| 4F〜8F | Guest Rooms Floor |
| 3F | Guest Rooms, Medium Banquet Halls "Kinshi" & "Ginshi" |
| 2F | Guest Rooms, Conference Rooms "Hakucho" & "Hakuun", Restaurant "Asuka" |
| 1F | Souvenir Shop, Bar, Ramen Restaurant, Coffee Lounge, Medium Banquet Halls "Sagano" & "Yoshino" |
| B1F | Restaurant "Nakajima", Karaoke Booth, Table Tennis, Billiards |


A wide panoramic view of Lake Toya awaits you from your first steps inside.
The window of the lobby projects the view and shape of the lake as if it were on a movie screen.
Release for your body and mind, it's a time of comfort and healing.
Complimentary Wi-Fi is available in the lobby.

Wi-Fi can be connected to a personal wireless LAN laptop / smartphone for free. By turning on the Wi-Fi signal via your settings, it will be connected automatically. However, there are instances in which some models are incompatible and therefore may not be possible to be connected. Thank you for your advance notice and consideration.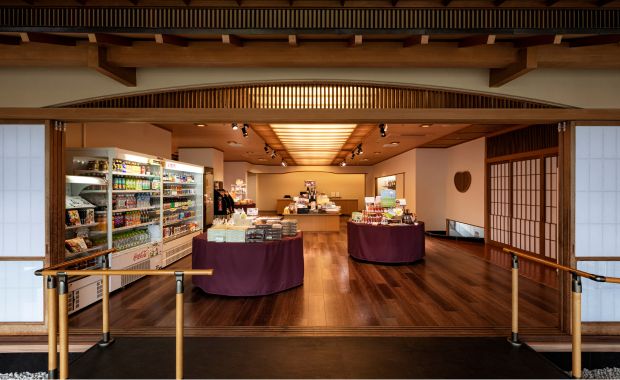 We offer a number of Lake Toya goods such as snacks made in the town of Toyako.
Recommended as memorabilia of your travel.
【Open Hours】

16:00~21:30 / 7:30~10:00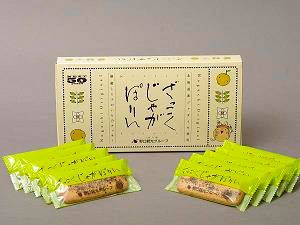 Noguchi Kanko 50th Anniversary original cookies are on sale!

This cookie is made from potatoes and grains.
Both bags and boxes are available for purchase.
Each cookie is wrapped individually, allowing you to enjoy them at your own leisure and time.
Have a taste of their goodness, as they are already prepared in all of our guest rooms.

Bag:462 yen (includes tax)
Box:682 yen (includes tax)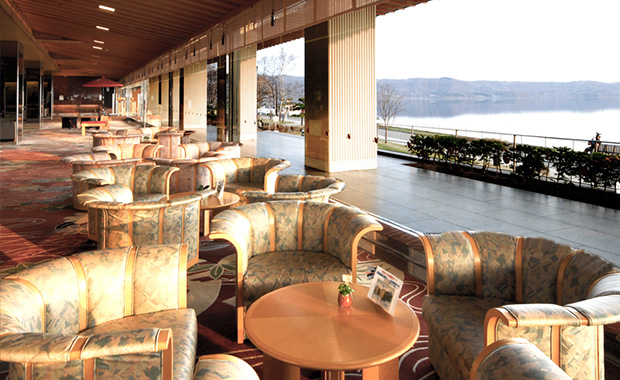 Come by to relax with coffee and a full view of Lake Toya's landscape.
【Open Hours】

16:00~21:00 / 7:00~10:00

As the name of the "Onsen ryokan with a superb view" suggests,
From the restaurant, you can enjoy a magnificent view of Lake Toya, Nakajima and Mt. Yotei.
The scenery itself is the delicacy.
Please enjoy your favorite menu.

【Open Hours】

Dinner 18:00~21:00
※ May vary upon circumstance.
Last admission 20:00
Last order 20:30
Breakfast 7:00~9:00


*Business hours may be changed or shortened depending on the situation of the day.
Please check the details when you check in.


There is a range of banquet hall sizes from smaller to large.
Recommended for parties or other large gatherings, please use it to fit your occasion.
【Medium banquet hall】

SAGANO Room: About 134㎡
YOSHINO Room: About 41㎡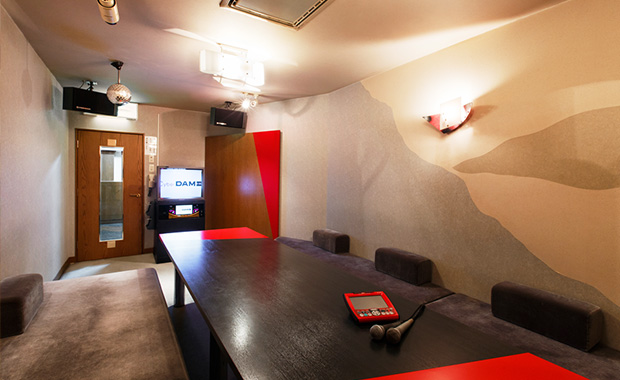 Spend a fun karaoke time with
your family or friends.
【Open Hours】

14:30~24:00
(Reception is open from 14:30 – 23:00)
【Seating capacity】

3 Rooms Maximum number is 15 persons
【Fee】

Charge per person is 500 yen (463 yen w/o tax) for 1 hour.